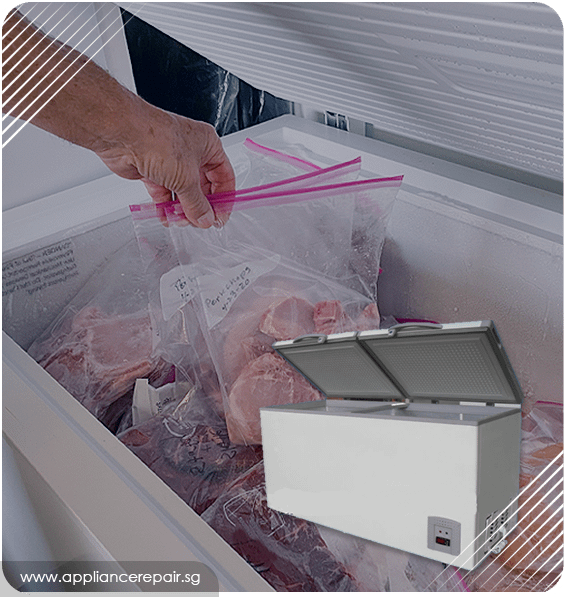 Chest Freezer Repairing & Servicing
Chest freezers have become popular since the end of the Second World War. With this great invention, people could stock up on food that could last them a month or two. If you have a chest freezer, you know just how much of a live saver this appliance is. That said, your freezer is only useful if it is working correctly.
Is your freezer leaking, making noises or not running at all? Talk to us, and we will send our team to your doorstep. Our experts are trained to not only diagnose the problem but also rectify the problem in the shortest duration possible. We come with all the right tools, and we pride ourselves in going the extra mile to make our customers happy.
Our Services are unmatched
We are dedicated to offering quality services to all our clients. We understand that appliances make life easy, and when they malfunction, the effect can be devastating. We, therefore, provide prompt services in case of emergencies. Other features that make us stand out include:
Highly trained personnel
Whatever the brand, we have the right person to handle all the problems that may arise. We regularly train our staff to ensure that we keep abreast with the changes in the industry.
Friendly staff
We are keen to create lasting relationships with our customers. Aside from offering quality services, we go a step further to enhance the customer experience. Our goal is to have your appliances working efficiently and ensure that you enjoy your experience with us. Our team is willing to answer any questions you may have and guide you on how to take care of your appliances to ensure that they last longer.
We offer Value for money
Chest freezers do not come cheap, and we know that all too well. Our services are designed to not only fix the problem immediately but also ensure that it does not reoccur. We will also be on the lookout for other worn out parts that may compromise the integrity of your freezer in the near future.
Flexible schedule
We can schedule maintenance and repairs around your schedule. All you need to do is tell us when you want us to come to your home. We work even on weekends and respond quickly in case of emergencies.
Common Freezer Problems
Heavy frost around the evaporator fins
High temperature alarm
The buildup of ice in the drain pan
Leaking. You can quickly check for leaks by observing for any water or moisture around the area where the freezer is placed
A freezer that runs continuously
Frequent starts and stops
Some of the chest freezer services we offer
Replace worn out parts
In case a malfunction is caused by a worn-out part, we are more than happy to replace that part for you. We only use high-quality parts that match the needs of your chest freezer. If you want to purchase the replacement, we will guide you on where to get high-quality parts at unbeatable prices.
Maintenance
We also offer freezer maintenance services. From gas refills to thorough cleaning, we work to ensure that your freezer is as good as new. We know that regular maintenance is vital for optimal performance, and we are happy to draw up a maintenance schedule in case you are too busy to plan for the same.
Contact Us
Contact us if you want quality chest freezer repair services. You can tell us the problem beforehand so that we can carry the right tools for diagnosis and repairs. We offer a free quote and our services come without any hidden costs. With us, you can be guaranteed that your chest freezer and other appliances in your home will be well taken care of.