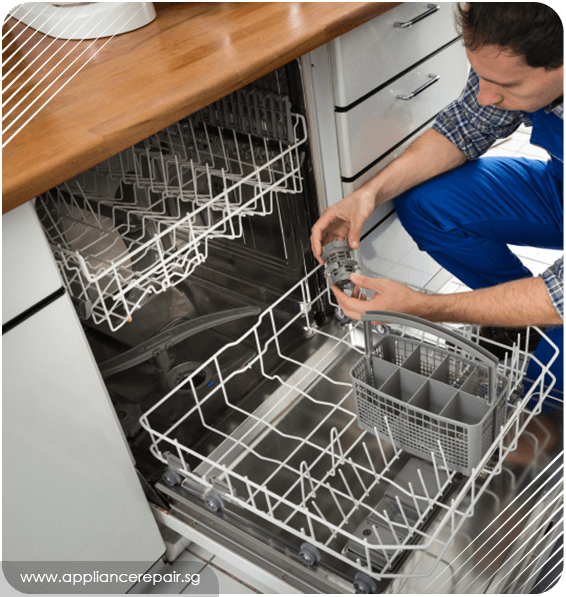 Dish Washer Repairing & Servicing
A dishwasher offers excellent convenience since your dishes get cleaned as you rest or do other things. However, a dishwasher that is not working correctly is anything but convenient. What with poorly washed dishes or a wash cycles that will go on for like forever. Whatever the problem, the good news is that a dishwasher is fixable. The problem may be minor and rectifiable in a matter of minutes. Our team is equipped to offer all types of dishwasher repair services and ensure that your prized gadget is running as good as new.
Common Dishwasher Problem
Cloudy Glassware
Cloudy glassware may be caused by inadequate rinsing before loading into the dishwasher. The issue may also arise if the water is extremely hard. Whatever the cause, our technicians will get to the bottom of it and offer guidance on steps to take to rectify the situation.
Dirty dishes at the end of the cycle
Blocked spray armholes are the number one culprit if your dishwasher is not doing a perfect cleaning job. Other major causes of dirty issues include worn out wash impeller or pump assembly and damaged heating element.
Long Wash cycle
A wash cycle will last longer if the thermostat is defective or the timer is malfunctioning. While the dishes may be clean at the end of the cycle, a longer cycle is often an indication that your dishwasher is having a hard time ending the cycle.
Leaking
A dishwasher will leak if you are using too much soap or the soap is not compatible with it. Other reasons for leaking include worn out door gaskets, leaking pump, or damaged spray arm assemblies.
Dishwasher not draining completely
A clogged drain may prevent the water from draining properly. A damaged drain impeller or solenoid may also be the reason why your dishwasher does not drain properly.
Other notable dishwasher Issues include a faulty detergent dispenser, bad odours, and warning light on among others. For all the above problems, we have just the right solution for you. Our dishwasher repair service covers all that and so much more.
We are the best local appliance repair and servicing company in Singapore. We offer high standard dishwasher repair services throughout the country. Our engineers are equipped to handle different brands and deal with all kinds of dishwasher related problems. Other features that make us stand out include:
Flexibility
We offer flexible services to our customers. We have weekend slots that you can put into good use if you are busy throughout the week. In case of scheduled serving, we will call you ahead of time to confirm your availability. We will then work around your schedule to ensure that servicing is done in good time.
We leave your house as clean as we found it
You will not have to put up with unwanted parts and packaging all over your kitchen floor. We pick after ourselves and ensure that we leave your home better than we found it. Even when you are not home, you can trust us to get the job done and in record time.
Guarantee for our services
Our services come with a warranty so you can be assured of their quality. In a bid to ensure satisfactory customer experience, we welcome your feedback and strive to do better every day.
Contact Us
Is your dishwasher giving you sleepless nights? Give us a call and let us address the issue once and for all. In most cases, a broken dishwasher can be repaired at a fraction of the cost of buying a new one. We will come assess your dishwasher and advice on the best course of action. In case the dishwasher can be repaired, we will fix it for you and leave it working as well as a new one.