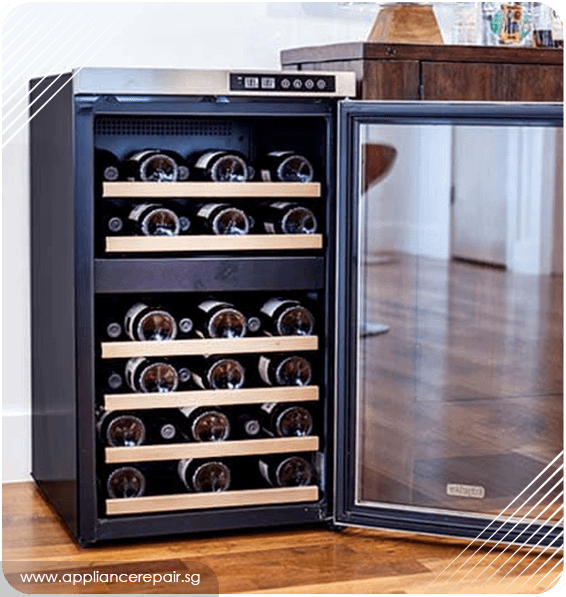 Wine Cooler Repairing & Servicing
Wine coolers otherwise referred to as wine refrigerators, are useful in chilling wine to optimum serving temperature. Thanks to their ability to maintain wine in the ideal temperature and humidity, wine coolers are perfect if you do not have a wine cellar. That said, just like other appliances, Wine Cooler may malfunction, leading to a lackluster drinking experience. That is where we come in. We are well-equipped to handle all your wine cooler needs. Whatever the problem, we will fix it quickly and have your cooler running in no time at all.
Why choose us
appliancerepair.sg provides reliable and fast wine cooler repair services in Singapore. We are dedicated to offering high-quality services but also building lasting relationships with our customers. We give a guarantee of our services and work hard to ensure that you get value for your money. Where a part needs to be replaced, we will get the best replacement in the market and ensure that your cooler is up and running in no time at all.
We work with a team of engineered trained to work with different brands of wine coolers. Our team is also knowledgeable about other appliances repairs making us a one-stop-shop for all your appliance repairs.
Some of the Wine Cooler Types we Repair
Single Zone
Double Zone
Compressor-Based
Thermoelectric
Built-In
Common Wine Cooler Problems
A cooler that will not go on
This problem is caused by anything from a tripped breaker to a loosened power cord.
A wine cooler that stays on but is not cooling
This problem is mostly caused by a faulty thermostat. The issue may also occur if the motor fan is damaged or if the compressor or condenser is having problems.
Leaks in the cooler may occur if the drain hose is plugged or if the door seals are dirty or defective. You may also notice leaks whenever you leave the cooler door open for a prolonged duration.
A change in the cooler temperatures is often accompanied by a cracking or popping noise. This is totally normal and nothing to be concerned about. You should get concerned if your cooler starts to produce a grinding or squealing sounds. It is always wise to call service immediately so that the problem can be fixed and further damage is prevented.
If the surface where the wine cooler is placed is not leveled, the door may not close properly. If the problem persists, you should check the shelves and ensure that they are correctly positioned. Also, get a professional to check whether the gaskets are dirty and take the necessary steps to rectify the issue.
Get your Wine Cooler Fixed in 3 Simple Steps
Reach out
Get in touch with us on our website and fill in the questionnaire. If you need more clarification, just talk to our customer service team, and you will have all your questions answered satisfactorily.
Diagnosis/Repair
Our engineers will come right to your doorstep and work to diagnose the problem and fix it. We will show up at the scheduled time and finish the job in the shortest duration possible. We will also work around your schedule to ensure that you are not inconvenienced in any way.
Guarantee and Payment
You only pay for our services once your cooler is working right again, and you are happy with the results. We offer a guarantee for our services, and you can rest easy knowing that your cooler will be working efficiently for long. It is important to note that appliances require regular maintenance, and you can schedule your next maintenance for your refrigerator and the rest of your appliances with us. Just let us know how you want us to help you. We will show up and get the job done.