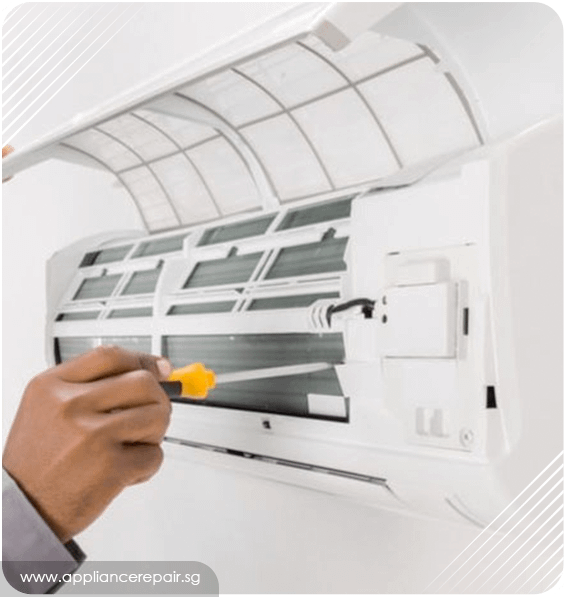 Aircon Repairing & Servicing
If your air conditioner is faulty or you feel that the system needs to be inspected, we are here for you. Our team comprises technical staff familiar with all kinds of aircon repair processes, certified engineers, and manufacturers. We offer our services throughout Singapore and serve our customers from the comfort of their homes. Aside from providing high-quality repair services, we also offer emergency services working during weekends and holidays. Our phone lines are always open, and we can send a technician your way whenever your air conditioner fails you just when you need it most.
AC Repair Engineers
Our engineers are manufacturer certified and can handle any system used in Singapore. The engineers can install AC units, repair them, and perform regular maintenance. Our engineers also have access to manufacturer support hotlines. You can expect them to identify the problem and offer an immediate solution quickly.
Do you need our Services?
Well, if your air-conditioning is not working correctly, you need us to fix the problem for you. 80% of the time, air conditioners are fixable and at a fraction of the cost of replacing the entire system. Since we are the experts in this field, we will diagnose the problem and offer the best solution that suits your unique situation. Our team is good at identifying faults and restoring malfunctioning appliances within a short duration.
In addition to offering aircon repair services, we will also service your system. Your air-conditioning needs to be serviced to increase its working life and ensure that it is performing optimally. If we service your system, we will notify you when the next servicing is due. We will also confirm your schedule so that we only appear when it is convenient for you.
We specialize in appliance repairs and servicing and have the skills to handle the appliances you have in the house. Our services also extend to commercial appliances. Whether you are struggling with a broken fridge or a washing machine that will take forever to complete a cycle, we can help you. All you need to do is get in touch with us and let us know the service you are looking for.
Why Use
We only use quality parts
We do not compromise where quality is concerned. We only replace damaged parts with original high-quality parts sourced from the manufacturer.
We offer personalized services
Ours is a small business, but we are working hard to grow and get more customers over time. Throughout our growth, we have been keen to continue offering personalized appliance repair services to our customers. All of our customers have unique needs. We go the extra mile to meet these needs by customizing our services.
We are a local company
Are you keen to grow the local economy? We are a Singapore owned and operated business. We know all the requirements as far as the law is concerned, and we will do our part to ensure that your appliances are in compliance with the law.
Our prices are fair
Given the quality, you can be guaranteed that our rates are the fairest in the market. If your aircon can be repaired without needing any replacement, we will only charge you for the service. You only pay for any parts we replace, and we will consult you beforehand. Our services come without any hidden charges, and we offer a free quote to those who need our services.
Contact Us
Get in touch with us through our website, and we will get back to you. Our customer service team will be quick to respond to your queries and offer guidance in case you are stuck. Let us handle all your aircon repairs, and you can rest easy knowing that your system is in good hands.