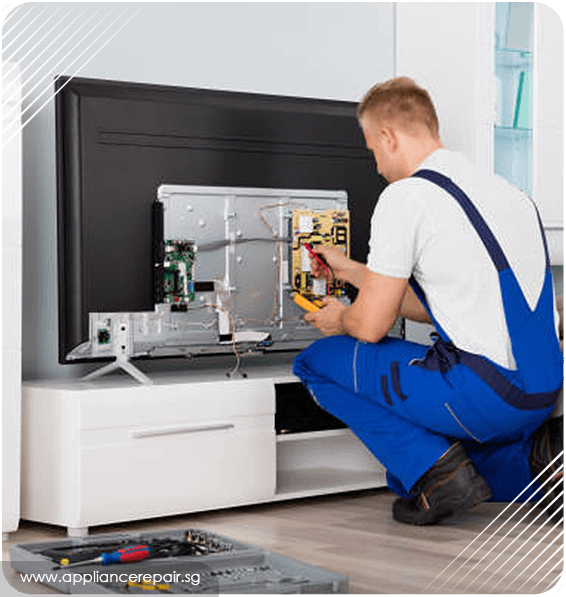 TV Repairing & Servicing
TV Repair Service
A TV is an import part of the modern home. Without one in the house, staying indoors can get boring, especially if you enjoy binge-watching your favourite series on your day off. If your TV is misbehaving, talk to us and let us sort the problem for you. We have a team of experts who are well trained to offer the best TV repair services.
Not yet convinced? Below are more reasons why you should call us if you need TV repair services.
We are a local company
We are a Singaporen born and bred company, and we take pride in offering the best repair service in the country. Aside from contributing to growing the local economy, you will also enjoy personalized services when dealing with us. We value all our customers, and we are dedicated to offering the best as far as our services are concerned.
We offer a wide variety of services
From aircon to dishwasher repair services, we offer all these services and so much more. Whatever appliance you are having an issue with, we promise that we just have the right person to get the job done. Our team comprises of professionals who can handle all types of appliances. Our expertise extends before the home as we are also equipped to handle commercial appliances.
We are affordable
Our services are reasonably priced and considering the quality that we offer; you can be sure that ours is the best bargain in the market. Our services come without hidden cost, and we send a free quote beforehand, so you know what to expect when you engage our services. We also offer huge bargains on serving customers who need us to take care of all their home appliances.
We offer guidance
Often, an appliance may be damaged beyond repair. There are also instances where the cost of repairing a broken TV or any other appliance is too high. Where this is the case, we will offer guidance and help you make an informed decision. We are always ready to answer any appliance-related questions that our customers may have.
Things we can do for you as far as TV Repair service is concerned
Replace worn out parts
Your TV may go off or sound weird whenever any of its components malfunctions. If a damaged part is the reason why your TV is not working right, we will replace it for you. We only source for genuine parts designed specifically for your TV model, so you have nothing to worry about on matters quality.
Replace the Screen
While your TV may still function after the screen breaks, your watching experience will never be the same. We replace screens that are either broken or not as clear as you want. We have quality screens and know how to install them for satisfactory user experience.
Guidance
In some instances, replacing a broken TV may cost as much as a new one. Once you contact us, we will first assess your TV to determine the extent of damage as we work out the cost of restoring it. If the damage is extensive, we will advise you to buy a new one instead. Our team will also go a step further and offer suggestions on best brands in the market and where to get them at great bargains.
Contact us
Are you in need of TV repair services anywhere in Singapore? Get in touch with us and let us fix your TV for you. We respond fast to all distress calls, and we work quickly to resolve all your issues. We came with all the right tools, and we do our part to ensure that the integrity of your appliance is safeguarded. Call us today, and you will never have to worry about your appliances again.