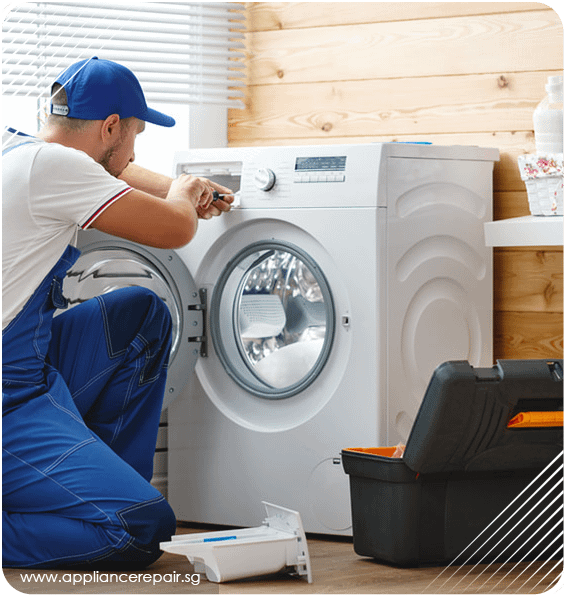 Dryer Repairing & Servicing
A good dryer should last you for about ten years. In case your dryer malfunctions at any time within its lifetime, you can have it repaired and running smoothly in no time. All you need is a professional who will diagnose the problem and correct it for you. If you are in Singapore and need of professional dryer repair services, get in touch with us and let us handle all your dryer related issues for you.  We have a team of dedicated staff well conversant with all dryer types and are ready to come to your door and fix that appliance for you.
Common Dryer Problems
Dryers, just like most appliances malfunction. Fortunately, most of these problems are easily fixable. Below are some of the common dryer problems we encounter in the course of our work.
Noisy Dryer
Your dryer will get loud when the belts, seals, or bearings wear out. Where noise is the issue, a technician will check for the worn out part and replace it.
A dryer that will not start
This problem can be caused by anything from a damaged heating element to a worn-out cycling thermostat. As long as you are sure that your electric connection is not the problem, get dryer repair service if your dryer refuses to go on.
Inadequate Heat/Too much heat
A dryer will not produce adequate heat if the heating element or a fuse has malfunctioned. In case the temperature is too high and cannot be regulation, the thermostat could be the issue. These and more problems can be easily rectified by replacing the worn-out part.
Why Us
We offer Dryer repair services throughout the country. Wherever you are in Singapore, we will respond fast to your call and repair the dryer from the comfort of your home. Our team is equipped to handle all brands of dryers and deal with all dryer-related problems. We have original replacement parts, so you have nothing to worry about where quality is concerned.
Even though ours is a small company, we take pride in offering personalized service and offering the best services in the industry. Our phone lines are open 24/7, and we can schedule to check your dryer on weekends or whatever time that is convenient for you. We will respond fast in case of emergencies and work quickly to have your appliance up and running in no time at all.
We offer a wide range of appliance repair services. We repair and service all types of appliances. Whether yours is a commercial or domestic appliance, we are more than equipped to handle it. Our team has easy access to manufacturer hotlines, and this can help if the malfunction can be traced back to the manufacturer.
We also only charge for the service that we offer. As long as we know where the issue is, we will give you a free quote so that you are aware of your financial obligation. Our services come with no hidden costs and our prices for parts are the best in the market. If we do not replace any part, we only charge for the service offered. We will also go a step further and advice on how to take care of your appliance to avoid problems in the future.
Contact Us
Contact us through our website and let us know how we can help you. You will be required to fill a simple form with your details and let us know the service that you need from us. Our team will call and arrange to get your air-conditioning fixed. Whatever appliance you need to be repaired or serviced, we will work on it and deliver quality services within the shortest duration possible.